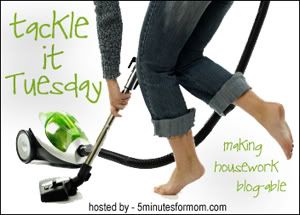 Today I decided to put the border up in Henry's room. I've had the stuff to do it for at least a year and a half. I just had to get the wallpaper from the top of the fridge, the scraper from the garage and the primer from the box that Jason had hid it in.
So I gathered the supplies:
Here are the before pictures and you can see how Henry had started peeling off the old border.
Here is the after picture.
I can honestly say that if not for Tackle it Tuesday I would probably have put this off for another year or more.
What are you going to tackle?