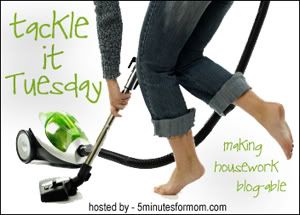 When I was a teenager I used to spend a few weeks in the summer at my Aunt Joyce's house, watching my little cousins Jen and Becca. My Aunt had an AWESOME guest room! It was stacked high with yardage, yarn, patterns and trashy romance novels. She always apolozized for it, but I thought it was cool. I spent the summer making the kids freezer pops, breaking up fights and reading Harlequin romances.
Little did I realize at the time how this experience would rub off of me. NO... not the trashy romance novel part. The spare bedroom full of junk.
Before Stephanie moved out I had the office downstairs full of my art stuff. Slowly but surely the kids took it over because the computer was down there too. So after Steph moved out I took over her room. See Above.
Where I thought that my Aunt's room was cool... I find my room cluttered and unsettling. This room became my first thing to tackle on my first "Tackle it Tuesday"!
Here are the after pictures:
Here is what has to go. I'm thinking of taking the books to the used bookstore down the street. The stuff in the hamper will be tossed.
What are you going to tackle?